Scan facility was inaugurated by Chairperson of Tamil Nadu State Social Welfare Board, in a brief function held on June 13 th 2010, under the auspicious of Prof. Rangarajan Foundation and the Hindu Mission Hospital.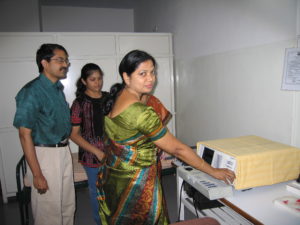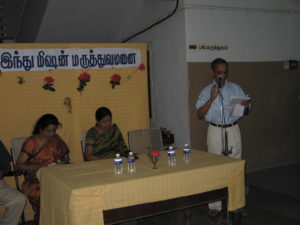 The Secretary, Shri. V. V. Subramanian, welcomed the gathering and thanked those instrumental in the growth of the hospital; especially, Sri Ravindran, Secretary Saranathan Engg. College; Sri Srivatsan, past Treasurer, and his brother Sri Krishna Kumar. He also thanked Smt. T.V. Saraswati and various other volunteers, local and remote.
The Hindu Mission Hospital has a long standing policy, in line with Hindu Dharma, of not assisting female foeticide. The chief guest, Chairperson Salma, inaugurated the facility, and reminded the audience that HMH's policy is also the law of the land.
Dr. Vidya Ravi and Dr. Ravi spoke about the importance of identification, examination and treatment of diabetes in pregnant women and briefed about the free medical aid to be provided under the aegis of Hindu mission Hospital and Prof. Rangarajan Foundation.
The following free medical aid to be provided to poor patients.
Free scan and medical consultation for diabetic pregnant women.
Free scan, consultation and provision of free Chlomiben Tablets for infertile women.
Further treatment like laproscopy, endoscopy and surgery at reduced cost.
Dressing of diabetic foot and provision of free glucorite tablets until the wound is cured.
Free provision of artificial leg for those who have amputated leg due to diabetes.
Vote of thanks was proposed by Dr. Ravi.